PLEASE CLICK HERE TO JOIN OUR NEW ISSUE NOTIFICATION SERVICE. NEW RELEASES
WILL BE READY TO MAIL WITHIN 10 DAYS OF RELEASE / BEING POSTED HERE (WHICHEVER IS
THE LATER) UNLESS STATED OTHERWISE.
THE 2016 CHIP RACK 17th EDITION IS AVAILABLE FOR IMMEDIATE SHIPPING CLICK HERE!!!
-----------------------------------------------------------------------------------------------------------------------------
PALMS NEW RACK CHIPS, PLAZA, LUXOR & SAMS TOWN COMMEMORATIVES.
Following its acquisition by Stations Casinos, the Palms has released new rack chips. The $1 was in fact released some time ago but only a few had been put into play previously. The Plaza have released $5 & $25 Big Blues Bender chips. Both denoms are in short supply. Luxor have released a new $5 Mindfreak chip and Sams Town have released a $5 Killers chip. These will all ship approx 23rd October.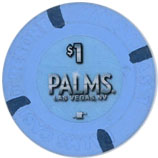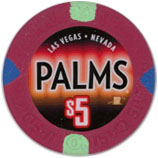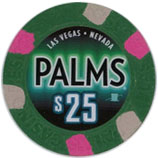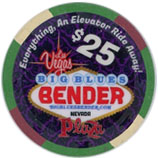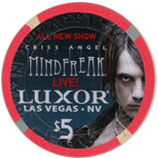 EL CORTEZ 75th ANNIVERSARY CHIP.
El Cortez have released a $5 75th Anniversary chip.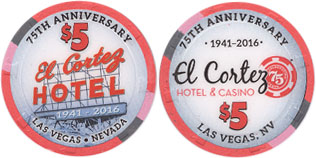 WESTGATE APA POOL AND SCOREBOARD, SPRING CREEK RACK CHIPS.
Westgate have released a $5 APA Pool chip. Scoreboard, Spring Creek have released new rack chips. These are very hard to obtain. I only have $1's and $5's available and they are in limited supply. These chips shipped on 1st September.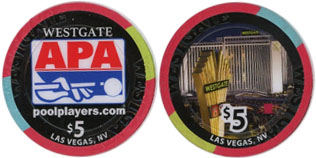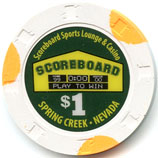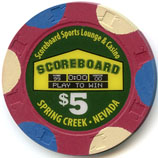 PLAZA, CAESARS PALACE, RAILROAD PASS & VARIOUS NEW RENO CHIPS INCLUDING HOT AUGUST NIGHTS.
Plaza have released new rack 'The Pool' chips ($1's are difficult to come by). Caesars Palace have released a pair of $5 and pair of $25 50th anniversary chips. Railroad Pass have released a set of 5 85th anniversary chips. Atlantis, Bonanza & Harrahs have released $5 Hot August Night chips. Sparks Nugget have released new rack chips. LV chips shipped on 20th August, Reno on 28th August.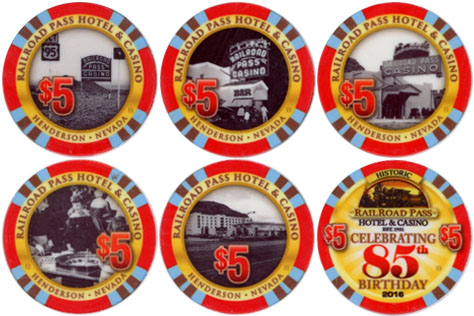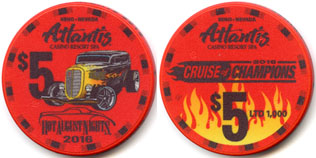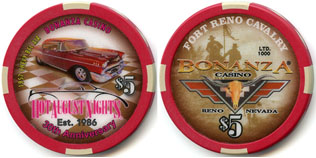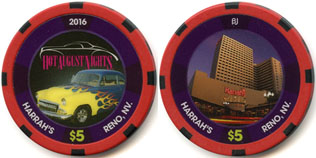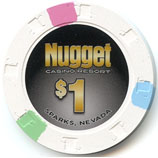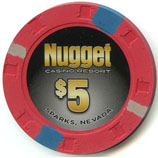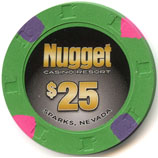 STATIONS CASINOS 40th ANNIVERSARY CHIPS.
Stations Casinos have released 40th anniversary chips (Boulder Station, Fiesta, Fiesta Henderson, Green Valley Ranch, Palace Station, Red Rock, Santa Fe, Sunset Station & Texas Station). I am only selling these in sets of 9 at present. Chips shipped 19 July.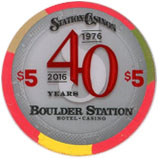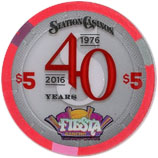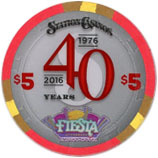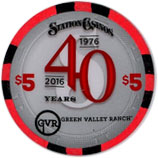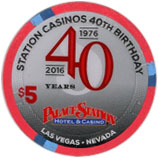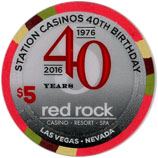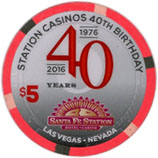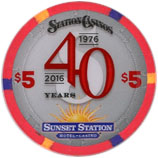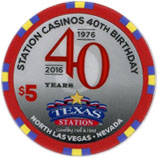 COLORADO BELLE & EDGEWATER LAUGHLIN NEW CHIPS.
Colorado Belle & Edgewater Laughlin have released new rack chips. Chips shipped 19 July.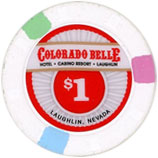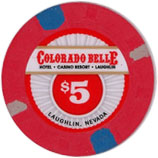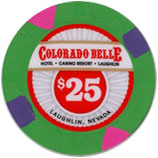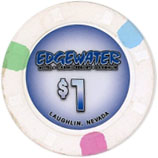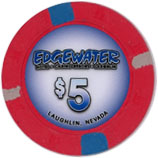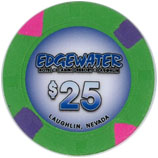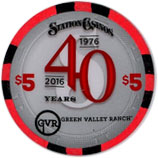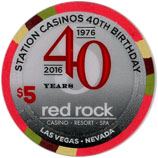 SOUTH POINT LAS VEGAS, BOOMTOWN, EL CAPITAN, GRAND LODGE & MIZPAH NEW CHIPS.
South Point has released a new $5 chip. Boomtown, Verdi has a new rack. El Capitan & Mizpah have re-opened and have new racks. Grand Lodge (formerly Hyatt Regency) has a new rack. These chips are available for immediate shipping.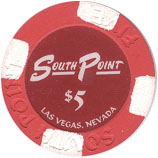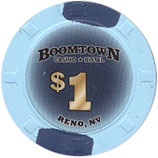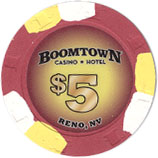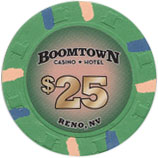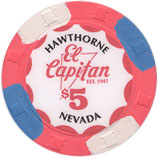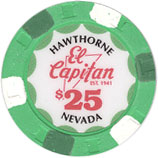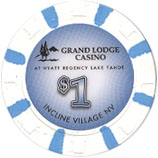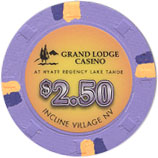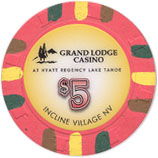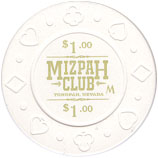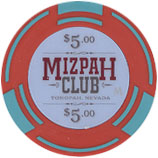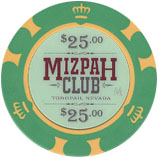 RIO WSOP, FREMONT 60th ANNIVERSARY, FOUR QUEENS 50th ANNIVERSARY & BOULDER STATION $1 CHIPS.
Rio have released a set of 4 WSOP $5 chips. Fremont and Four Queens have both released anniversary chips and Boulder Station has a new $1 rack chip. Chips were shipped on 2 July.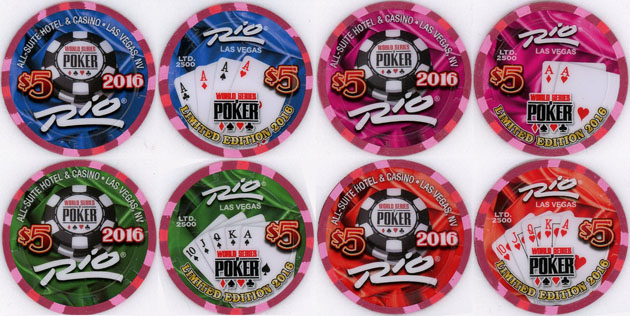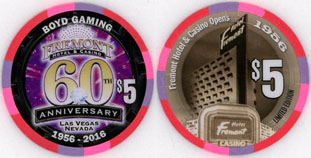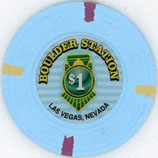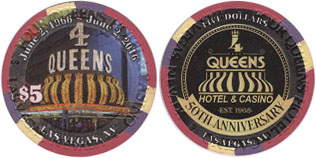 RED ROCK LAS VEGAS 10th ANNIVERSARY CHIPS.
Red Rock have released $5, $10 & $25 10th Anniversary chips.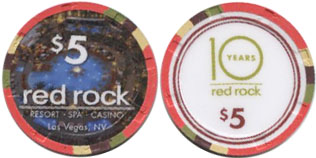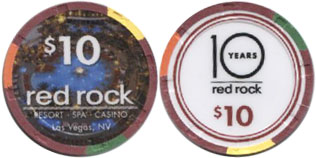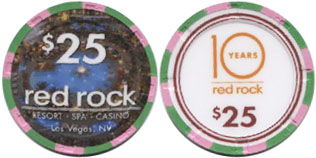 HARD ROCK RASCAL FLATTS AND STRATOSPHERE TAKE VEGAS BACK CHIPS.
The Hard Rock have released $5 & $25 Rascal Flatts chips. Stratosphere have released a $5 Take Vegas Back chip.