PLEASE CLICK HERE TO JOIN OUR NEW ISSUE NOTIFICATION SERVICE. NEW RELEASES
WILL BE READY TO MAIL WITHIN 10 DAYS OF RELEASE / BEING POSTED HERE (WHICHEVER IS
THE LATER) UNLESS STATED OTHERWISE.
THE 2013 CHIP RACK 15th EDITION IS AVAILABLE FOR IMMEDIATE SHIPPING CLICK HERE!!!
THE 2012 GAMING TABLE 4th EDITION IS AVAILABLE FOR IMMEDIATE SHIPPING CLICK HERE!!!
-----------------------------------------------------------------------------------------------------------------------------
EASTSIDE CANNERY, MIRAGE & PLANET HOLLYWOOD NEW CHIPS.
Eastside Cannery released a new $1 chip (dark 'CASINO.HOTEL'). Mirage released $5 & $25 25th anniversary chips, and Planet Hollywood release a set of 3 Jeff Dunham chips. These will ship approx 22 December.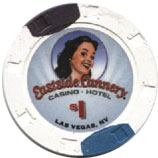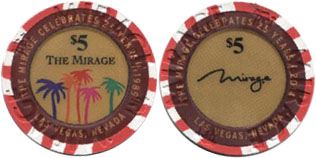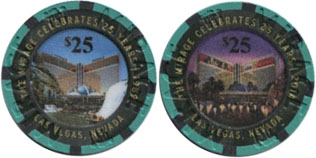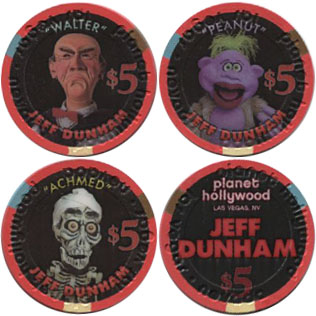 HARD ROCK LAS VEGAS KISS CHIPS.
Hard Rock Las Vegas will release $5 & $25 KISS chips today (November 5). Past KISS chips have been hugely popular with the band themselves buying up a large proportion so I'm expecting these might actually sell out! These shipped on 11/12 November.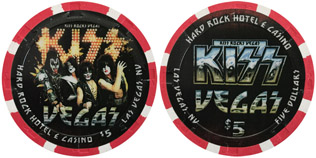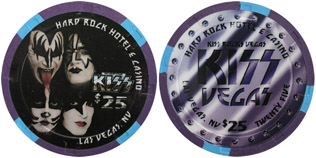 LINQ, ALIANTE, PALMS, CIRCUS CIRCUS & GRAND SIERRA CHIPS.
The Quad in Las Vegas has been rebranded to The Linq and has new chips. Aliante released $5 & $25 chips for both Halloween and 2nd Anniversary. Circus Circus released a $5 Vince Neil chip. The Palms released a $5 Lao Sze Chuan chip and Grand Sierra Reno released a $5 Race for the Cure chip. These shipped on 11/12 November.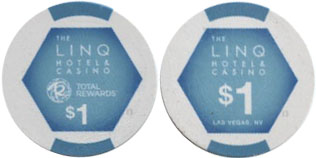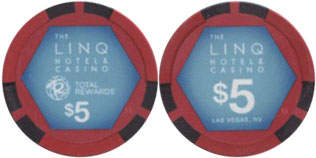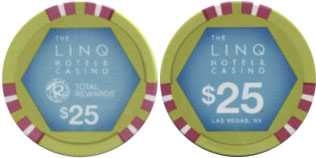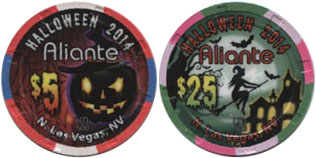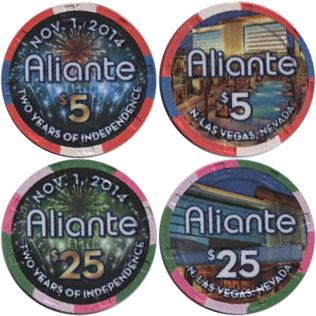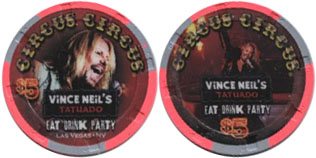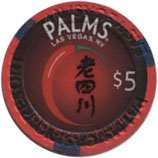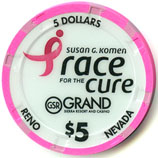 ATLANTIS & HARRAH'S RENO CHIPS.
Atlantis Reno released yet another $1, same design but in blue. Harrah's released a 2014 Street Vibrations $5 chip. These shipped 12 October.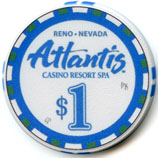 MGM GRAND LAS VEGAS MAYWEATHER VS MAIDANA 2 CHIPS.
The MGM Grand released $5 & $25 Mayweather vs Maidana 2 fight chips. The $5's were very difficult to obtain and I only have a few. Word has it that that Mayweather camp bought up the majority of them. Limit one $5 per person, first come first served. These shipped 12 October.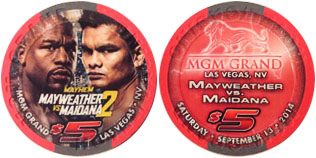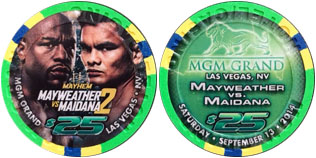 WESTGATE LAS VEGAS NEW RACK CHIPS.
The LVH has finally been rebranded to Westgate and has released new house chips. These shipped on 16 September.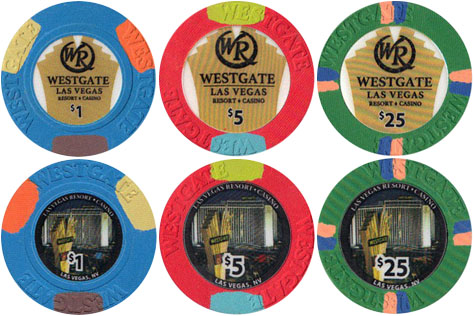 BOULDER STATION 20th ANNIVERSARY CHIP.
Boulder Station released a $5 20th anniversary chip.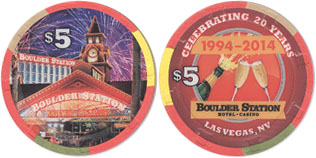 SLS LAS VEGAS, PALAZZO AND VENETIAN CHIPS.
The SLS Las Vegas opened midnight August 23. Palazzo and Venetian released Grand Dragon $5 chips.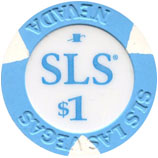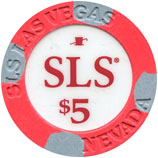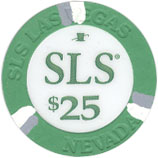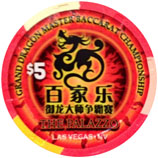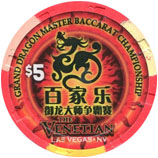 SKYLINE HENDERSON AND RENO HOT AUGUST NIGHTS CHIPS.
The Skyline Henderson has released $1 & $5 Jim Marsh chips. In Reno, Atlantis, Bonanza, Harrah's & Peppermill have released $5 HAN chips.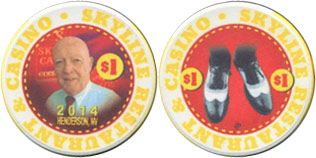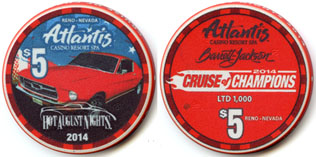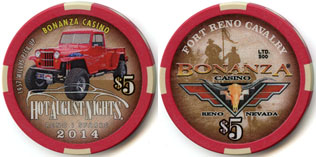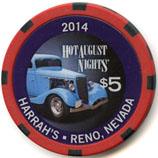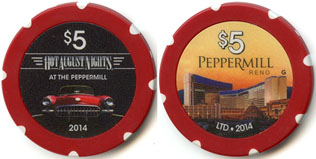 TROPICANA & LAS VEGAS CLUB HOUSE CHIPS.
The Tropicana has released a new $5 Mamma Mia house chip. Las Vegas Club released a new $5 house chip.