Sepia Club & associated operations
History and identification is provided below the scans.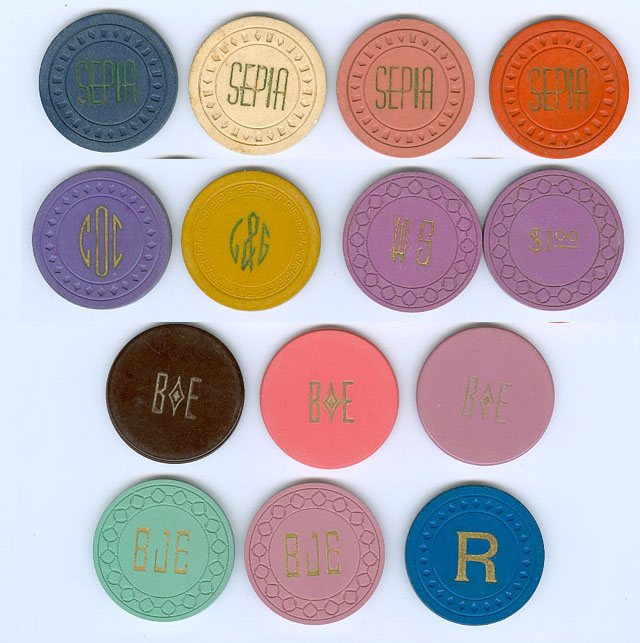 Summary of chip attributions. To the best of our knowledge following research, the chips were used as stated below. (It is possible that all chips were used in both states but we dont have enough evidence to support that.)
OREGON - SEPIA - Sepia Club; COC + L&G (Chris O'Connor, Lake & Garden Club); WS – Wrangler Saloon.
KENTUCKY - BE - B(Speakes) & E(Piper); BJE - B(ill Speakes), J(Briggs) & E(Piper).
The 'R' monogram chip could have been R(obert) Briggs but we cant prove that so it remains unidentified.
The use of all the chips referred to revolves around four families of operators, active first in OR and then in KY between 1934 and the present day. All these chips were found in KY with Speaks and Piper's name on the box so they had to have taken them with them although we cant prove the OR chips were ever used in KY. The existence of these club listed below and their chips has been proved by various arrest and investigation records I have been very fortunate to gain sight of. It is important to note that these records indicate the clubs were engaged in illegal craps and BJ games and were not 'licensed' card rooms for poker.
The chips came from an estate sale, supposedly originating from a property on Versailles Road, between Lexington & Frankfort, KY, and their usage researched and documented below. Subsequent research discovered some were supplied to establishments in Oregon, and the information (from a completely independent source) which I have now obtained, links these people to operations in both states.
Edwin "Ed" Piper and son Edwin "Ed" Piper Jr. Piper senior operated in Oregon until approx 1954 when he moved to KY. Piper Jr is still operating in KY today, working with Speakes and Briggs below.
William "Bill" Thomas Speakes Jr and son William "Bill" Thomas Speakes III. Speakes Jr operated in Oregon until 1954 when he moved to KY and opened the Dona Gene Club.
Brothers Eddie & Chris O'Connor. Eddie ran O'Connor's in Portland, OR until he died. Chris operated in Oregon City. His body was found before the other people connected moved on to KY.
R(obert) John Briggs and son Jack Briggs. Robert operated in Oregon City. Jack operated in Newport, OR until the 1980's, when he moved to KY to team up with Piper Jr and Speakes Jr once more.
Apart from the SqinCirc chips, the others date from early 1940's to mid 1950's. The WS chip was delivered to Jack Briggs, Wrangler Saloon, Newport OR per manufacturers records.
Gene Trimble met Speaks while he was in Lexington at Seattle Slew's funeral ceremony in 2003. He had a BJ and craps game setup in his basement and had games twice a week. Speaks, Piper, and Briggs the younger's were still operating roving games. He gave Gene 3 different initial chips they had bought over the years 60's to present. Same initials but different chips from what was in this estate sale. No doubt that these monogram chips were used in their moving games at the KY locations listed below.
Oregon locations
Sepia Club, 212 SW Alder St, Oregon City as long ago as 1942. Associated with other clubs on Washington St and the surrounding neighbourhood, many noted as 'ramshackle temporary communities'. Operated behind the 'front' of a typewriter store. (Piper, Speaks Jr, John Briggs)
Lake & Garden Club, 1221 Washington St, Oregon City (Chris O'Connor)
Kentucky locations
314 Versailles Rd, Frankfort. No premises name, but other searches show it has been Monkey's Uncle, Tropic Café and now a Mexican restaurant. Aerial photography shows it is a big plot with newer looking building so whatever was there is probably long gone.
"City Club" (of Lexington), on South Limestone, owned by Speaks and Piper, later sold to Lloyd Gentry.
Piper was charged in 2005 for operating a gambling place at 1301 Winchester Rd. in Lexington (poker and blackjack tables were confiscated).
Piper also involved with the creation, in 1987, of Players Club of Lexington, a membership golf course with illegal gaming.
There are other very recent existing monogrammed BPS chips (Briggs, Piper, Speaks) which came direct from the operators in Lexington, KY.
Thanks also to Jim Linduff and Gene Trimble for helping with the KY elements of the research.